BoVegas Casino offers web based, app based and mobile game play modeled after the Las Vegas experience.  They cater to US players supporting credit card and Bitcoin cryptocurrency and 24/7 US based support.
Registering at BoVegas Casino
Getting started at BoVegas Casino is similar to registration at other casinos.  Click here to get started.  Here I'll walk you through the registration pages at Bovegas Casino.
After clicking Sign Up you'll see the first of three sign up screens:
Here you'll enter your first and last name along with setting your username and password.  Make sure to use your legal name used on your bank or crypto accounts.  This will make it easier to complete account verification which will allow you to deposit and withdraw money from your BoVegas account.
Clicking Next  will take you to the second registration screen where you'll enter your address info.  Again, make sure you enter the same address you use for your banking accounts to make account verification easier.
Clicking Next again will take you to the Personal Details screen where you will enter your birth date and contact info.  Make sure to read the Terms and Conditions carefully.  These can change without notice and contain important conditions for the bonus codes you'll be redeeming.
Redeeming Bonus Codes
Redeeming bonus codes at BoVegas Casino works similarly to other online casinos.  One nice feature they have is that they automatically enter the bonus code for you if you click the promotion image at their lobby.
If you click on the BOVEGAS250 code below:
You get taken straight to the cashier where you'll see that the Bonus Code has been automatically entered for you.  All you then have to do is click on Redeem Coupon.  Simple!
Of course, you can manually enter your bonus codes.  To enter codes for No Deposit Bonuses at BoVegas casino, simply navigate to the Coupons tab in the Cashier to enter your code:
For deposit bonuses, you will enter your Bonus Code at the Deposit tab.  Another simple but convenient feature at BoVegas is that they list their active promotions in their Bonus Code entry menu.  Simply click on the pull down menu to select the promotion you want to redeem.  If you want to redeem a different bonus, simply click on Use another code:
Once you've selected the Use another code option, you can manually enter your promotion code as shown for LUCHA200 below:
Bonus Requirements at BoVegas Casino
BoVegas Casino offers a lot of different bonus codes and there are a lot of different rules to pay attention to.  It's definitely worth your time to go over BoVegas casino's terms and conditions, commonly called T&C.  It's a lot to go through but important info can be found in there.  One of the biggest rules is that all bonus money at BoVegas Casino is non-cashable and cannot be withdrawn.  This is called a sticky bonus.  Casinos use sticky bonuses to ensure the money they give to players is used to actually play games. You can see this rule in section 10.2.4 of BoVegas Casino's T&C:
You can see that if they automatically remove ineligible funds from your cashouts if you have any.  BoVegas calls these Manager Withdrawals.  Fortunately money won using the bonus funds can be cashed out as long as the wagering requirements have been met.
Fortunately the rest of the requirements are pretty clearly defined in their terms and conditions.  Things to keep in mind when you're playing bonuses.  Keep in mind the different types of bonuses:
No Deposit Bonus
Deposit Match Bonus
Free Chips
Free Spins
Also keep in mind the game restrictions for different bonuses.  Different games have different wagering requirements.  For example:
Cash Out Caps
Bonuses and promotions at BoVegas Casino are covered by the casino's terms and conditions but individual bonus codes may have their own conditions, like these for LUCHA200:
Just like it's important to know the casino's overall T&C, it's important to keep track of the individual Bonus Code terms and conditions as well.  For example, you might want to play only the codes that don't limit the amount of winnings you can cash out.   Bovegas Casino's T&C state that the max cash out amount for Free Spin bonuses is 5x the number of free spins you're credited for the Lucha Libre 2 game.  The T&C for LUCHA200 state that there is no cash out limit for the money won for that Bonus Code so you're free to cash out any winnings after you've met the 30x wagering requirement.  If you don't want your cash outs to be restricted you might want to keep an eye out for Bonus Codes like LUCHA200.  
Wagering Requirements
All bonuses at BoVegas Casino are subject to wagering requirements.  Wagering requirements are limits that the the casinos use to ensure that the money they give to you is played as intended and not abused or treated like free money.  Wagering requirements are also used by BoVegas to direct you to try out specific games.  Wagering requirements are also called playthrough or playthrough requirements.  BoVegas' wagering requirements are a multiplier that tells you how many times you need to play the bonus amount before you you can withdraw your winnings.  Let's use the deposit bonus from LUCHA200 as an example.  If you deposit $50, this is how you would calculate your wagering requirement:
Once you've wagered a total of $3000 then you're free to cash out all of your winnings since LUCHA200 has no limit on the amount of money that can be cashed out after meeting the wagering requirement.  That might sound like a lot of money to play but the good thing is that any money earned from the bonus counts towards the wagering requirement if you choose to play with your winnings so you'll find that it sometimes it doesn't take long at all to fulfill your wagering requirements.
Now that you know all about how to redeem bonus codes and how to keep track of the terms and conditions, here are some bonuses for you to consider!
BoVegas Casino Bonus Codes
50BAMBOO – No Deposit $50 Free Chip Bonus
This is a $50 No Deposit Bonus code for new users.  The wagering requirement is 50x and the max cash out amount for this promo is $100.  This is a great introduction to BoVegas but there are more enticing Bonus Codes I'll tell you about next.
LUCHA200 – 200% Welcome Bonus + 25 Free Spins
Bonus code LUCHA200 is for new players on your first $25 minimum deposit.  It is a sticky bonus, which means the bonus money is meant to be played and cannot be cashed out.  You get 200% deposited in addition to your deposit amount.  The free spins apply to the Lucha Libre 2 game only and the welcome bonus can only be played on slots and specialty games.  The wagering requirement is 30x but there's no limit on the amount you can cash out.
BOVEGAS250 – 250% Slots Match
BOVEGAS250 is a sticky bonus.  It can be used twice on slot games (Video slots, 3-reel slots, Keno, Bingo and Scratch Cards) after minimum $25 deposit.  The wagering requirement is 30x with no limit on cash outs.
BOVEGAS300 – 300% Slots Match
This bonus code can only be redeemed after completing BOVEGAS250. This bonus code gets you a 300% bonus against your minimum $25 deposit.  As with BOVEGAS250, this bonus is sticky and the bonus money can only be used on slot games (Video slots, 3-reel slots, Keno, Bingo and Scratch Cards) and the wagering requirement is 30x.  There is no limit on cash out with this promotion.
NEVADA300 – 300% Bonus + 25 Free Spins
This is a 300% deposit bonus that reaches a max of $6000.  Like the other bonuses NEVADA300 is sticky.  The wagering requirement is 30x of both the deposit and bonus so keep that in mind when considering this promo.  There are no additional wagering requirements for the 25 free spins that go beyond the requirements of the Deposit Bonus requirements.
You can find more details on the latest BoVegas bonus codes at https://usacasinocodes.com/bovegas-bonus-codes/.
Monthly Slot and Card Deposit and Free Spin Bonuses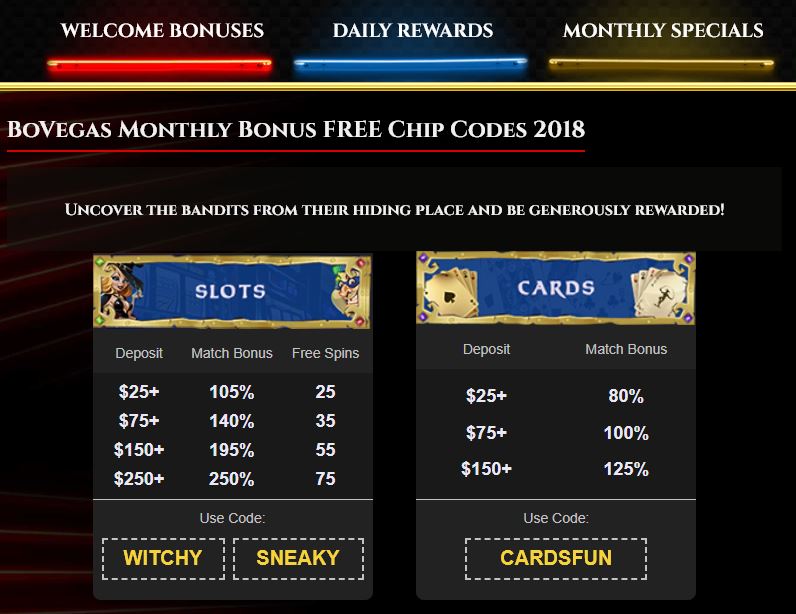 BoVegas Casino offers monthly Deposit + Free Spin bonuses for slot games and Deposit Bonuses for card games.  Codes WITCHY and  SNEAKY for slots and CARDSFUN for card games will get you these deposit bonuses:
Monthly Slots Bonuses
You can see that the deposit bonus percentages increase as your deposit amount increases, as do the number of free spins you get.  As with NEVADA300 the wagering requirement includes both the deposit and the bonus amounts.  As usual these bonuses are sticky and the bonuses redeemed with the WITCHY and SNEAKY codes are restricted to slot games (progressive games excluded).
Monthly Cards Bonuses
Card games don't have spins so you don't get any free spins but you can see that the bonus percentage also increases as your deposit amount increases.  Deposits and bonuses redeemed with CARDSFUN are restricted to card games.
Depositing Money
BoVegas Casino supports Credit Card, Bitcoin and Secure Payment Vouchers for deposits.  Credit card and Bitcoin deposits are the most common transactions so I'll cover those here.
As you can see there is a $25 minimum deposit for all deposits.  Credit card deposits have a limit of $1000 per deposit and are funded to your BoVegas account immediately.  Bitcoin deposits have no max limit and fund immediately.
Credit & Debit Cards
Before credit cards can be used to deposit funds to your BoVegas account you must complete a Credit Card Authorization Agreement:
Color copies of the front and back of the credit card you wish to authorize.  Note they only require the first 6 and last 4 digits as well as the cardholder name and signature on the card.  One form is required for each card you want to authorize BoVegas to use to fund your casino account.
Crypto Deposits
BoVegas supports Bitcoin deposits.  Simply scan the QR code using eWallet software to deposit the money to your BoVegas account.  The BTC exchange rate is provided for you to estimate the amount of Bitcoin that will be transferred.
As with credit card deposits, make sure you enter any Deposit Bonus codes you wish to redeem so you get the bonus amount and any spins/chips credited to your account.
Once you've sent the money you can check on the status of your deposit by clicking on the blue Check Status button on the deposit page:
Withdrawing Money
Withdrawing money from your BoVegas account is simple if you've met your wagering requirements and submitted all of the required documentation.  You can withdraw money to a credit card account (Visa and MasterCard) or to your bank account directly.
Withdrawals have a minimum amount of $100 and a maximum amount of $2000.  You can only request one payout per week.  All withdrawal requests must be approved by the casino.  In addition you must complete a Payment Verification Form and Credit Card Authorization Agreements on file if you wish to withdraw money to a credit card account.
Note that the Payment Verification Form requires a photo of you holding your ID and a recent utility bill issued within the last 3 months.  Withdrawal requests take between 3-7 business days to process once approved.
Player Support
I had some questions about some of the bonus codes I wanted to redeem so I contacted Player Support via online chat.  I chatted with Kelsey who clearly understood English so I don't think BoVegas outsources their online support.
My chat experience with Kelsey gave me the information that I needed and she applied a No Deposit Bonus to my account!  It was a pretty nice touch that encouraged me to get started playing rather than scrutinizing the Bonus Codes any more than I had already done.  Additionally she gave me a Bonus Code for a 250% deposit bonus and 35 free spins plus another 100% bonus matching my deposit amount should my account balance drop below $1!
It was definitely worthwhile to contact support with my questions.  It was a nice surprise to get the extra perks!  So far my experience at BoVegas Casino has been pretty good so far.  I'm enjoying playing through the bonus that Kelsey provided so I'll definitely be returning to take advantage of that surprise deposit Bonus Code!
User Reviews